Not really. Not even close. But I figured I'd do a
Pour Your Heart Out
post about a topic that's bugged me off and on since before Cate's birth--
mom
-petition (kind of like competition, just with moms). But before I get into that, you have
8 more days to enter for a chance to win $10 to Amazon
.
When I was pregnant with Cate, I got on our local mom's message board a lot looking for answers on how to "do" this whole mom thing. After her birth, I continued to seek this out. I learned that moms fit into all different kinds of categories-- crunchy/granola, SAHM (stay-at-home), working moms, attachment parents, and the list goes on.
And then I started questioning everything. I didn't fit into any one category. Was I wrong to work? Was I right about eating/feeding Cate organic food? Should we be co-sleeping?
So I quit. I quit trying to figure out what kind of mom I was and just started being a mom. I check in on the message board from time-to-time though. Mostly if I'm looking for specific information, like getting Cate to stay in her bed at night (she usually only gets up once now, which is a big improvement from the 2-4 times she'd be up each night a few months ago).
I happened to pop in on a day when one of the hot topics was extended breastfeeding. The discussion thread was sparked by a scene in the movie
Grown Ups
where a four-year-old is still breastfeeding. The poster wanted to know if this really happened and why some moms did that. The extended breast-feeders explained why they chose to extend breastfeeding into their child's toddler and pre-school years. The non-extended breast-feeders launched an attack, calling breast-feeding beyond 18 months (most) or 2 years old (some) gross and non-beneficial at all. Judgments flew all over that message board. Even though the extended breast-feeders were answering the question the original poster posed, those not in agreement came down hard on them (which had nothing to do with the discussion's original intent of why do some moms choose to breastfeed for so long).
And really, I feel like motherhood is full of these kinds of attacks and judgments. The SAHM vs. The Working Mom. The cloth diapers vs. disposables. Breast-feeding vs. formula. Potty-train at 2 vs. potty-train at 3. TV vs. no TV. Co-Sleeping vs. Sleep in own bed. Cry-It-Out vs. Soothing baby's every cry.
As moms, we want to feel not just like we're doing a good job with our kids, but that we're doing the best job. We want to feel like we're better than every other mom out there. But can I be honest? You're not the best mom out there. Neither am I. No mom is. But we are the BEST at knowing what to do BEST for our families.
And because of that, I'd like to challenge the momma's out there to let go of the labels you hold onto or desire. It's so freeing. Once I gave up the mom message board, stopped reading the blogs of mothers that made me feel like I was failing because I wasn't doing exactly what they were doing, and let go of labels (and just started calling myself "mom"-- no prefix or suffix or other type-descriptor needed), I felt so much better. I was doing what I knew to be best for my family. Whether you have 1 kid or 10, no one's got this whole mom thing completely figured out. One mom's strategy might be another mom's stress. It's great to share what works for you, but don't expect anyone else to think it's THE way to mother.
It sounds idealistic and all peace-love-and-sunshine, but I really do think if as moms we channeled the time and energy we spend judging others and questioning ourselves into building one another up and encouraging one another, we'd see a lot less hostile message board threads. And maybe more moms would feel like they're doing a better job. I know some moms out there that struggle a lot with guilt and wonder if what they're doing is best for their kid(s). And I want to say to them, let go of that guilt-- you are doing a FANTASTIC job.
~Melody :-)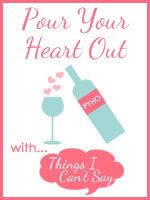 And some pics (about a month old, but new to the blog):
Sidenote: As a teacher, I see students that have been raised in all different ways-- by SAHM's, working parents, single parents, in crunchy homes, in TV-as-babysitter homes, in big houses, small apartments, that didn't go to preschool, that did go to preschool, etc. By middle school, they're all more or less the same-- punky and squirrely. :-)