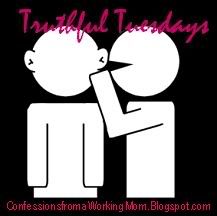 This week's question from
Elizabeth
: How has motherhood taught you to let go?
I wouldn't say that motherhood has taught me to let go of things so much as it has taught me to re-structure a few things (okay, okay, compromise-- but I really don't like that word for this subject).
Like "me-time" for example. Life BC (Before Cate) gave me plenty of time to take long walks with the dog, read (I used to be a 30-40 book a year kind of girl...now if I get in one or two a month I'm doing well), knit, watch trash on TV,
stalk
check on people on Facebook, run, cycle, golf, ski, write, etc.
Now my "me-time" looks a little different. I don't have as much, which means I have to be choosy with how I spend my time. So sometimes that means a walk with the dog and flipping channels for an hour or so before bed. Sometimes it means a little bit of knitting and 20 minutes to read. I still get "me-time," just not as much. And I'm totally okay with it. Totally okay with not getting a walk everyday, or letting a knitting project sit on the needles for a week, or not going for a run for months, or letting an entire ski season slip by without hitting the slopes. Don't get me wrong, I definitely miss those things. But the "me-time" I lost has been replaced by something, or should I say someone, so much better.
We do puzzles together a lot (the alphabet one is the most challenging one for her, but she's getting better at it every day and learning more of the letters).
She follows me around and imitates me (more yoga baby).
And we take A LOT of pictures!
It's worth the sacrifice. And even on the days when she's whiny, getting into things, and generally testing my limits (and believe me, on those days I do think about life BC) I remind myself that it won't be like this for long. She'll eventually come home, stick her earbuds in her ears or go out with her friends, shut the door to her room, and leave me with plenty of "me-time" again. So I'm okay letting go of it for awhile.
~Melody :-)