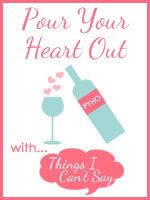 Today's topic is one I hesitated to blog about mostly because it's embarrassing. But the more conversations I have with people and the more blogs I read, I realize I'm not the only one. Linking up with
Shell
today.
While I'm not one to dwell on past events or regret things (frankly, I find it a waste of time to sit around thinking "if only" although sometimes it's necessary if we want to learn from our past), there is one thing that I sometimes wonder "if only I had done things differently."
IF ONLY I hadn't signed up for that darned credit card with it's 20ish % interest and $200 limit and shiny Starry Night print on the front when I was 18. Because with that card, I learned to use credit and got in the habit of buying things I couldn't necessarily afford. I'd run up the card, work hard to pay it off, and then run it back up again. The limit always increasing because I was the credit card company's dream with all the interest I was paying.
This spend, pay off, repeat cycle continued for 7 years and was something I brought into my marriage. In 2007, my husband and I decided we were done with credit cards. We cut them up, made a plan to pay them off, and promised we'd close the accounts once they were paid off. We started attending a new church in the summer of 2008 and in the fall of 2008, we took Dave Ramsey's Financial Peace University course through our church. While we don't religiously follow all of Dave Ramsey's advice , we have found most of his principles to work for us.
It's been so liberating to pay cash for everything-- from the not fun stuff like car repairs and our roof (the deductible) to fun stuff like vacations and books and even my iPhone. Don't misunderstand me though, we're not "stuff" people. I hate clutter. And paying cash for everything has meant that we have a lot less "stuff" because we don't buy what we can't afford (or we sell things we're done with to pay for new things we want/need or we just give stuff away because there are so many people in need). We're down to our mortgage, one car payment, and my student loan (which is under 15K now and wasn't all that large to begin with). I'm not against credit. Just against irresponsible credit use.
So sometimes I let myself go "there." Go to the place where I wonder where we'd be if I hadn't signed up for that stupid card. If I'd started paying cash from the beginning instead of using credit irresponsibly to purchase things I couldn't afford and didn't need. I'm happy with where we are now for sure. And our plan at the moment is to continue saving (we want a nice 10 year anniversary trip in 3 years and a nice trip to Disney for the kids around that same time-- they'll be old enough to remember it but young enough for it to be "magical"). In a few years we'll be deciding if we want to put an addition on this house or purchase a new one, but either way, we want to pay off our home before Cate starts college (a realistic goal since we bought at the bottom of our price range and will do so again if we decide to buy a new house). But I wonder if maybe that Disney trip money would already be in the bank or if we'd be able to start an addition on our house right now "if only."
What about you? Do you have that one "if only" wandering around in your mind?
~Melody :-)