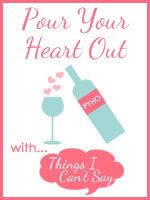 I'm linking up with
Shell
today to tell you about how yes, I have THAT kid.
Cate started dance class in February. She loved to dance around the house and we thought she'd like the class. Plus, it was a way for me to get out of the house once a week while on maternity leave. We've had kind of a love/hate relationship ever since. Some weeks Cate enjoys going and does what she's supposed to do (for the most part). Other weeks Cate tells me she doesn't want to go or will go and do what she's supposed to for the first 20 minutes and spend the last 40 in her own little world. It's important to note though, that she's the youngest in her class and her class has about 15 girls in it. From what I've gathered from the other moms in the parent waiting area each week, most of the girls, if not all, are in preschool or kindergarten. So they know how to listen and work with a large group of their peers. Cate won't start preschool until the fall. I think this alone explains so much.
Anyway, her recital is this weekend. She's stoked to get to be up on stage. We had the run through on Monday night and tonight is the dress rehearsal. The run through can be summed up in two words= hilarious chaos. While the other girls had moments of stopping their dancing to wave and call out to their parents, Cate just plain did her own thing the whole time she was on stage. While the video below is pretty crappy, you get the idea. She's the one not doing anything the other girls are doing.
My first reaction was that it was funny and cute. The other parents were laughing and smiling as they witnessed the pure joy Cate experienced as she performed on stage. But then I began to over-think the whole thing.
Will Cate's dancing going to ruin the other parents' enjoyment of the recital? What if they don't think it's cute and think it's annoying? The other parents must think we don't discipline or anything at home because Cate is sure not listening or doing what she's supposed to be doing.
It's all in my head. I know this. I grew up in a church with children's choirs and loved it when THAT kid waved to mom and dad and called out to them instead of singing. I don't want to squish her spirit. I just hope the other parents find it as endearing as I do.
At the end of it all, come Saturday, we'll be taking a summer hiatus from dance, even though a summer session is offered. We're not big believers in over-scheduling our kids, on having a different activity for each night of the week. Cate will be taking swim lessons this summer because I at least want her to learn how to hold her breath and get herself out of trouble if she ends up face first in the water this summer. And we're considering a one week long soccer/basketball camp where they just do little drills and play little games as they learn the fundamentals for an hour a day. We want to expose Cate to some different things, but ultimately let her choose what she wants to do. In the fall, if she wants to do dance again, we'll revisit it. If something else catches her fancy, then we'll pursue that. No matter what, THAT kid is mine.
~Melody :-)