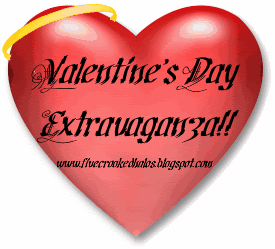 I love a good engagement story, so I couldn't resist playing along today. Check out
Mama M's blog
for more great love stories.
We were juniors in college and had been officially together for about 11 months (we spent a couple of months in the late winter of sophomore year just getting to know each other as friends...I had just come out of a bad, bad, breakup at that point in time). I was planning on a trip to New York City with three girlfriends. I almost didn't go because I was B.R.O.K.E. Little did I know that Eric had something up his sleeve. I came home to my apartment one day to find some cash on my desk and a little note. No clue where it came from (and my roommates swore they knew nothing either). I later found out it was Eric and there was a reason he needed me to go to New York.
So I headed out with my three friends, thankful for someone's generosity. We had a blast checking out the city, going to a taping of
The View
and
The Caroline Rhea Show
(she replace Rosie O'Donell). I talked to Eric a few times throughout the week, thinking he was in San Antonio with one of his friends.
On the second to last day of our trip, my girlfriends and I were walking through Central Park. My friend, Emily, told me she really had to go to the bathroom and wanted to hurry across the park to the art museum. We weren't too far from Strawberry Fields where the Imagine Mosaic is and I didn't see the point in walking all the way across the park to the museum only to walk back across the park to snap a picture at the Imagine Mosaic. But Emily insisted that we had to go the museum first and resentfully I went (I really wasn't happy).
Later on, as planned, we walked back through Central Park to Strawberry Fields while Emily kept talking to her "mom" (who was really Eric) on the phone telling him where we were. As we approached Strawberry Fields I noticed a guy off in the distance with his guitar. I thought it was so sweet and it made me miss Eric even more.
And then we got closer.
And it was Eric.
He had been in New York City the whole time. In fact, every time Emily talked to her "mom" it was really Eric so that Eric could make sure to avoid us.
He had me sit down while he played a song on his guitar that he wrote for me. Then he pulled out a beautiful ring and popped the question.
(**I know, it's not a great scan, but it works)
Of course I said yes! We spent the rest of the evening celebrating with our friends (two of his friends had been in the city with him). A little over a year later I walked down the aisle to the piano version of the song he had written for the proposal.
And that's how I became Mrs. Riggs.
~Melody :-)